Two Types: Focused and Radial
Focused ESWT:
Deep reach up to 12cm (dependent on attachments used)

Precise energy delivery to the exact area

Fast impulse

High energy density

Low Intensity

Focused shockwaves generated inside the applicator and then focused by a lens
Radial ESWT:
Superficial 3-4 cm treatment depth

Spreads to treat larger areas

Slow impulse

Low energy density

High intensity

Radial shockwaves generated by accelerating a projectile through compressed air
Conditions Treated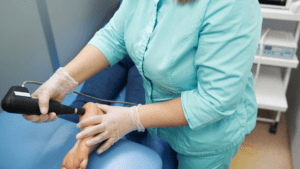 Shockwave therapy effectively addresses a range of conditions including:
Tendinitis of the shoulder (Acute/Chronic)

Calcific tendinitis of the shoulder (Acute/Chronic)

MTrP Therapy Neck (Acute/Chronic)

Radial/Ulnar Epicondylitis (Acute/Chronic)

Trochanteric Bursitis (Acute/Chronic)

MTrP Therapy Back

Thumb Basal joint Arthritis

Dupuytrens disease

Post Muscular Injury

Patellar tendinitis

Patellar tendinopathy

Periostitis/Shin Splint

Achillodynia

Plantar Fasciitis

Heel Spurs
Side Effects and Contraindications
Side effects:
Redness

Swelling

Pain (sometimes initially)

Hematoma
Contraindications:
Eyes

Major Blood Vessels

Open Wound

Implanted Devices

Brain

Major Nerves

Epiphysis

Infection

Cancer

Pregnancy

Joint replacement

Corticosteroid Injection

Clotting disorders
How successful is Shockwave Therapy?
Research consistently supports the effectiveness of shockwave therapy, with success rates reaching up to 90%. Its applications extend beyond musculoskeletal issues, showing promise in areas like bone delay union, neurological injury, andrology disorders, lymphedema, and more.
What to expect if you come to us for Shockwave Therapy?
When you arrive for a shockwave therapy appointment, you can anticipate a welcoming and professional environment designed to make your experience comfortable and effective. The session typically begins with a discussion between you and the healthcare provider to understand your specific condition, concerns, and medical history. Once ready, you will be guided to the treatment area where the practitioner will apply a specialised gel to the targeted area. During the shockwave therapy itself, you may experience a pulsating sensation as the acoustic waves are delivered to the affected region. The treatment duration is relatively short, often ranging from 5 to 15 minutes, depending on the specific condition being addressed.
Following the session, you can expect to resume your daily activities with minimal downtime. It's important to note that individual responses may vary, and your healthcare provider will discuss any post-treatment care instructions or additional sessions as needed for optimal results. Throughout the process, the focus is on ensuring a positive and beneficial experience tailored to your unique health needs.
Find out more about Shockwave Therapy at Max Physio here